This picture has absolutely nothing to do with this post, but this little cat of mine is growing up to be the most beautiful little lady and I can't help but splash photographs of her all over the damn internets. Her cute is just too cute not to share with you. It'd be cruel to withhold it.
 —-
Anyway.
Summer is traditionally our time of Getting Shit Done. Part of it's the house-guests that arrive on our front porch, part of it's that pushy nudge to get shit accomplished when the weather starts to warm up each year somewhere around the first few weeks of May and part of it's that I am a lazy good-for-nothing during the winter months who spends the bulk of her time whining about how fucking cold it is and hiding under blankets, begging the dogs to come and lay on my legs because I'm desperate for any sort of warmth I can get.
Typically the Swedes are our first house guests of the summer season, usually arriving in the early part of the summer and since they live far away and only get to see our house once a year, we always feel like we need to gets lots of things accomplished in between their visits. I'm not sure why they motivate us to get shit done, but they do and I like it.
This year was no different and their mid-June visit loomed closer, I developed great big hopes and dreams for our guest bedroom, one of my most favorite rooms in the house. Each year we inch closer and closer toward getting the guest room to some vague and unknowable "finished" status, and I've got to say, I'm pretty fucking happy with this year's progress.
It all started with a desk. Or, rather, a desire for a desk. I wanted some sort of vanity/desk for the guest room so guests could sit and pen love letters to lovers lost and stare longingly at themselves in a mirror, or, you know, just have a place to pile their stuff. For me this desk was key. I knew I wanted a new dresser in there as well, but I was absolutely hellbent on finding a desk prior to their visit.
So then we went to our favorite local thrift store and spotted a desk. It was an antique desk with great bones and the exact(ish) look I was hoping for and I pondered it and stared at it and wandered around and came back to it and then didn't get it because it was $100 and I wasn't totally sure about it and I figured if it was meant to be it would still be there when we came back. It was almost right, but I wanted to take some time and poke around at a few other places and see if there was anything out there that could top it. And so I stopped thinking about it for a while until, about a month later, we went back to the thrift store and there was the desk, still there and this time only $50.
And so we bought it.
In the beginning, the desk looked like this:
I know that's the worst iPhone photo ever and I swear to you that when I plan projects I make a mental note to take a before picture before actually starting on the project, but then I get excited and totally forget about before photos and then stop, mid-project, to hurriedly snap a few photos and they generally look like shit because sometimes I don't feel like going downstairs to get the good camera and instead just use the iPhone because that thing is damn convenient and almost always right next to me. When I took the above photo, I'd already painted the drawers and sanding was well underway. Oh fucking well.
So long story that involves lots of sanding, lots of priming and lots of painting short, now the desk looks like this:
WA-BANG!
I debated the color for a while. I almost re-stained the wood. I almost painted it white. I thought about painting it black. But then I flipped through Pinterest to find inspiration and realized that all of my pins of fabulous interior spaces had bright, bold pops of color and I finally came to the conclusion that, fuck it, I should just paint the damn thing bright yellow. And so I did. And I love it.
In truth, this desk isn't totally done. It still needs one more coat of yellow paint and a protective coat of polyurethane before I officially call it done, but we couldn't help but move into the guest room in advance of our summer guests. It's an amazing addition to the space as far as I'm concerned.
If I'd been on top of my game, I'd have photographed the whole room, but it's not quite ready for it's full and total internet debut and the bed wasn't made and I'm still sort of lazy, even if it's Get Shit Done season, so instead of a wide shot of the room that would put that spiffy yellow desk into any sort of context, here's a photo of the top of the headboard and the start of what eventually be a bigger little cluster of prints.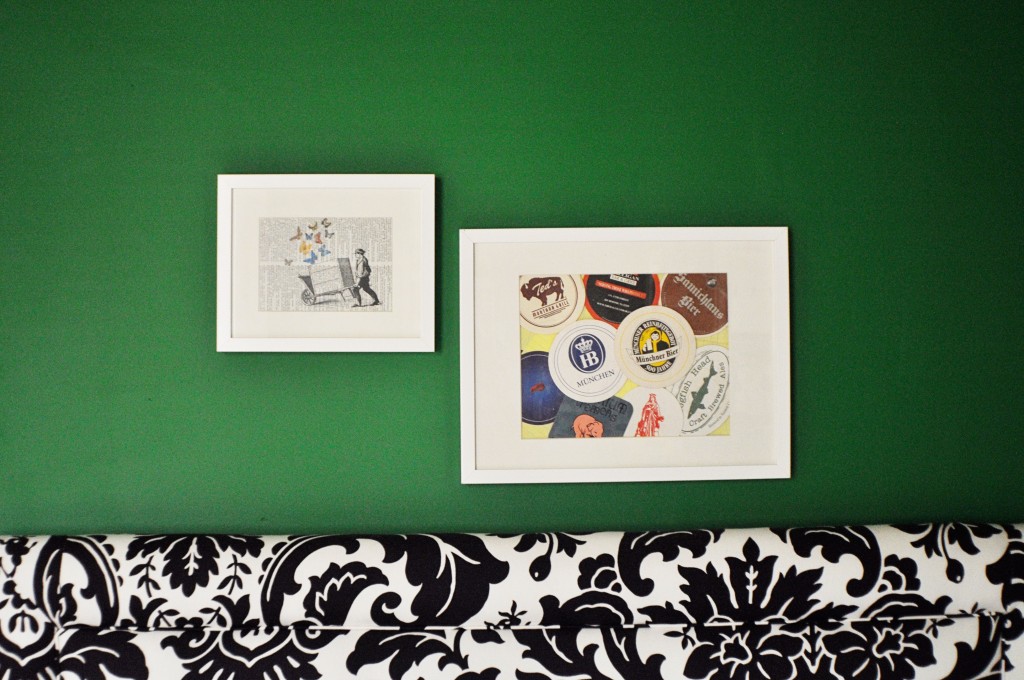 (butterfly cart print from
FauxKiss
on etsy; larger frame contains beer coasters, arranged in front of a few sheets of lined yellow notebook paper) Â 
The more years I live in this house, and it's only been two and a half years, the more I realize that creating spaces that feel like home is a never-ending process. I'm not sure I'll ever be done. First, because this house is almost 2,000 square feet of awesome, old 1924 bones, but also because I think the spaces in this house of mine will evolve right along with us. When we first bought this place, we figured we'd stay here for five or so years, but now that we're here, and now that we've made some big and little changes and as we continue to make this house feel more and more like us with each passing month, I'm starting to think I could stay for a while. There's just so much to do, and as someone who didn't grow up in one place or even one state, it's nice to have roots.