The thing about having your husband live far away in the middle of actual nowhere is that when you do go to visit him, you want things to be special. If I only get 2-4 days with my husband each month, you can bet your ass I'm probably going to get a pedicure before I go and I'll probably buy at least one new shirt before each visit, and an upcoming visit will probably encourage me to get that haircut I've been meaning to get for the past year or so and I'm going to fly to Alabama with the hope of doing fun shit that will make some magical memories and make me forget, at least for a few hours, how much being away from him sucks.
Last time I visited he graduated Warrant Officer Candidate School. This time we wandered around Alabama and got deliriously sunburnt on a Florida beach.
Magical Memory Making Day the First
I flew in Friday, we ate delicious hamburgers for lunch, which made me feel like I was dying for the rest of the day (NOTE TO SELF: MEAT MIGHT NOT BE YOUR FRIEND), his roommate let me put together a TV stand, which might sound like torture to some people, but which make my little heart happy to the point of near-explosion. Andrew told me about the potential pick-up of the thing and the need for it to be built and I immediately begged to do it. It was like bait. He knew I'd want to build that shit.
We were going to go see a movie, but then his roommate invited us to dinner at the Mellow Mushroom with another one of their classmates and since I love pizza and since they have a good beer selection there and since I really wanted to meet some of the people Andrew has been talking about and immerse myself in his life a little bit, I said yes, please to Mellow Mushroom with his friends and after all the pizza and a few of the beers we went back to Andrew's house* where more shenanigans ensued until it was bedtime.
*We should talk about how fucking weird it is to say "Andrew's house" because we've been married for four and a half years and before now it's been "our house" and it still is, although now there's "our house" and "his house" and it's FUCKING WEIRD.
Magical Memory Making Day the Second.
Saturday we puttered around a lot because of the hangovers and because we were lazy and because we could and then we went into "town," to Dothan, the closest town with a Target, and went to the Dothan Area Botanical Garden.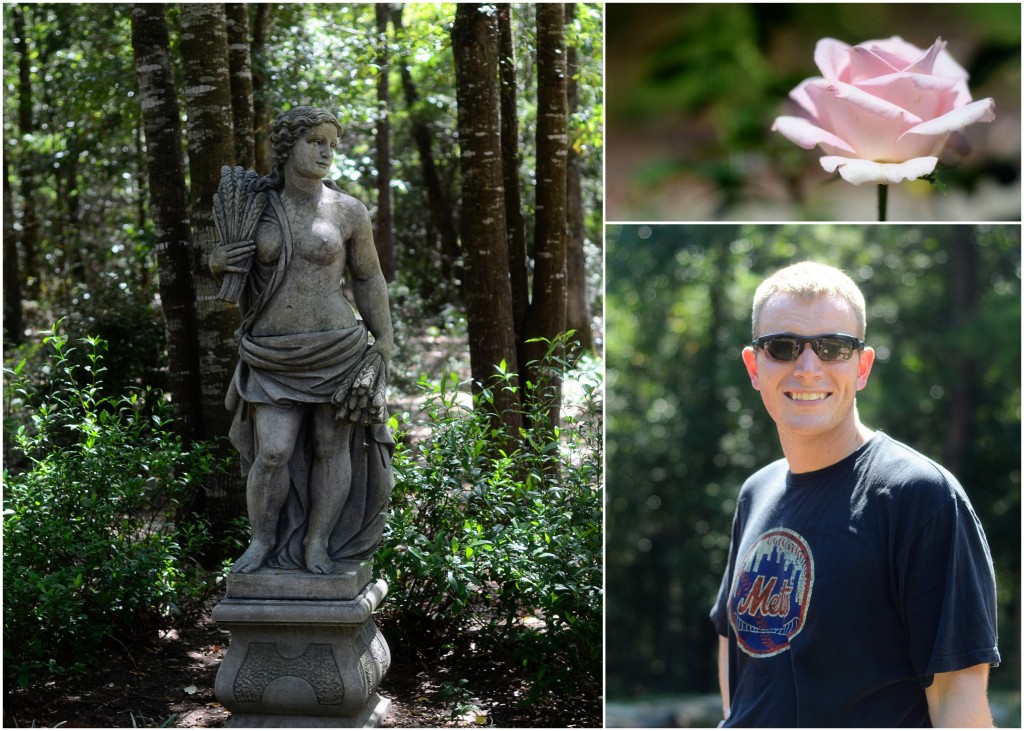 We had a picnic lunch of supermarket sushi next to a fence full of love locks, wandered through a rose garden and down a wooded trail where I was bitten by fire ants and saw approximately 18 million banana spiders, these giant monster spiders that build webs strong enough to catch sticks. Andrew claims it was a light stick, but still, IT WAS A STICK.
We hit up a giant antique store, contemplated purchasing a handful of decanters for Andrew's growing whiskey collection and picked up a few decades-old postcards, including one from just after the construction of the Tomb of the Unknowns at Arlington National Cemetery.
Saturday night was the first drive-in movie we've ever seen as a couple and probably the first time I've been to a drive-in movie theater in at least a decade. While there, we were accosted by a "native," the name we've chosen to assign to the crazy backwoods locals. He commented on my cell phone case, said his girlfriend had the same one and then pulled up his t-shirt to wipe his nose, baring his belly and man boobs to us and the world.
Alabama is a strange place.
Magical Memory Making Day the Third.
We woke up early, grabbed Sonic for breakfast (AGAIN – NOTE TO SELF – MEAT HATES YOU), and headed south to Florida. Andrew had visited Destin with one of his roommates a few weeks before and, based on the suggestions I got from travel writer and possible soul twin Kristin of Camels & Chocolate, I declared we'd be heading to Grayton Beach State Park for the morning and afternoon because really, when someone who travels as much as Kristin does recommends a place, chances are she knows what she's talking about.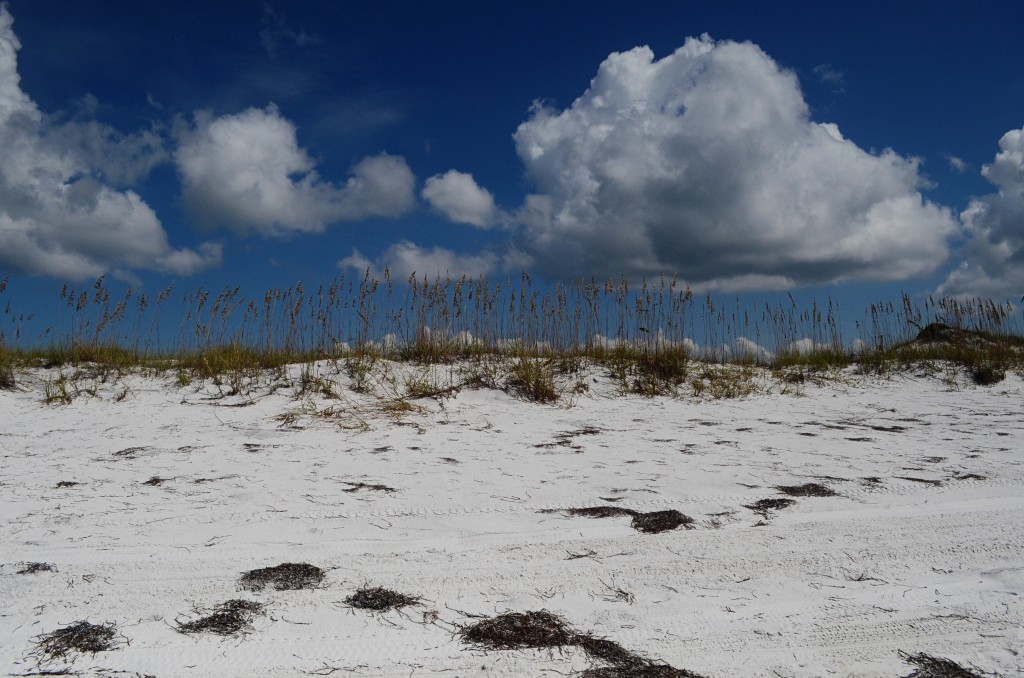 It was beautiful. White sand beaches and water so warm it felt like bathwater. Pelicans flew in v's overhead, showing us their white bellies, and crabs peeked from their sandy dens to check out the scene, only to scurry back into their holes the moment I reached for my camera. Andrew had to study for the exams he has this week, I got caught up on my pile of months-old Time magazines and we both got deliriously sunburnt.
For lunch we headed to Seaside, also on Kristin's suggestion, to check out the food trucks.
The food trucks are all housed in old Airstreams along 30A, Florida's scenic highway, in Seaside, a picture perfect community so perfect the Truman Show was filmed there. There's BBQ and grilled cheese and other delicious and tasty things and after a long morning and afternoon at the beach, it was a perfect lunch snack.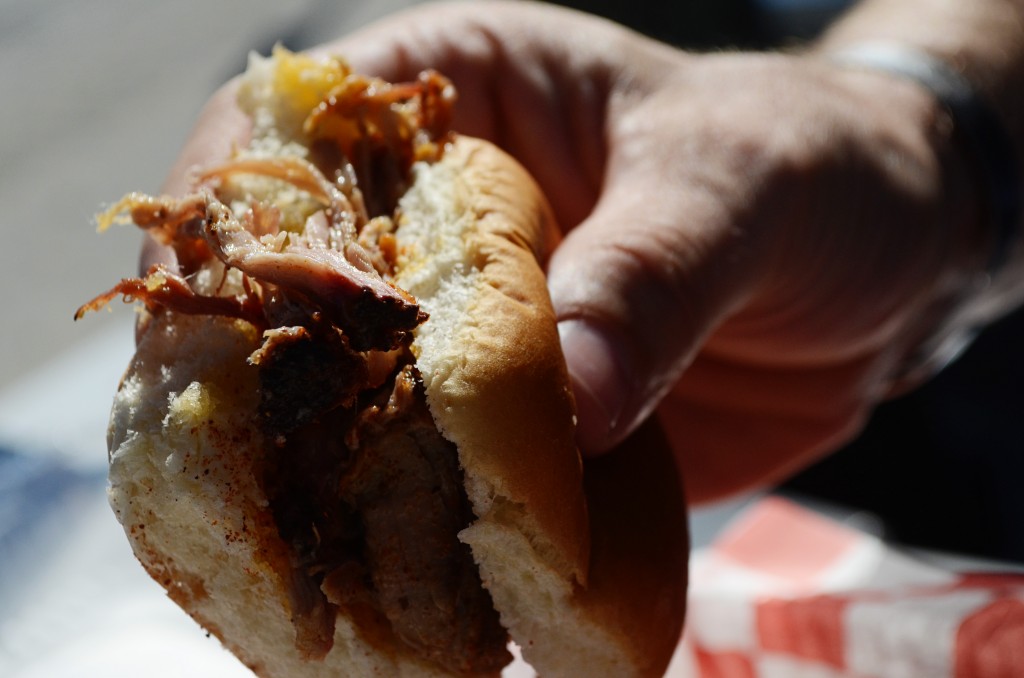 Then it was time to go home, or at least back to Andrew's home, past cow pastures and a gorgeous sunset and half a hundred cotton fields.
—
Monday I flew home, after lunch and packing and an extended goodbye at the itty bitty Dothan airport. Saying goodbye was less awful this time than last time and I didn't sob, just sprouted a few little baby tears before heading through security where the random set of pliers I had in my bag caused all sort of mayhem for the TSA agents who "don't see that every day."
Leaving continues to be my least favorite part of my Alabama adventures and while I don't see that changing anytime soon, I'm hopeful I'll at least cry less in public as we perfect this awful saying goodbye thing.
—
Did you do anything special to mark the end of summer?