Paris had always seemed to me like the most fascinating, romantic and perfect European destination. There's something magical about it, something fairy tale-esque that has allowed Paris to earn a top spot on my multi-page list of places I'd like to visit and so, when Andrew & I first starting talking about the prospect of planning a trip to Europe, I declared early on that Paris had to be on the short list, along with Sweden where some of our closest friends live.
We picked spring break, incidentally and fantastically also the week of my birthday, to head to Europe and I plotted and schemed and arranged our travel so that our first full day in Paris would be my 28th birthday, March 12th.
We arrived in Paris the night of March 11th, managing to catch a brilliant and perfect view of the glowing Eiffel Tower as we approached the city.
After a moderately stressful metro ride, a meandering search for our hotel and a late night wine snack, we went back to the hotel and then to sleep after rummaging through our first impressions of a city I'd spent an inordinate amount of time idolizing. Turns out when you arrive in Paris at 10:30pm via metro the city seems at first a little gross – dirty and scary, like an angry street rat.
—
—
I woke the next day, a brand new 28 -year-old, and was ready to GO. I knew Paris had to be more magical than our brief evening foray into it had led us to believe and so we set out early, ready to explore and to see if the city could stack up to all the dreams we'd had of it.
FIRST STOP: Cimetière du Père-Lachaise
Okay, fine. So maybe a cemetery doesn't top the list of places to visit for most Paris visitors, but there's something special about cemeteries that always seem to draw me in, especially the Cimetière du Père-Lachaise, where Jim Morrison and Oscar Wilde, along with a whole handful of other notable figures, are buried.
Chances are, if you've come to visit me in Richmond and if you give even a single damn about history, I've probably taken you to Hollywood Cemetery, home of over 18,000 confederate dead and boasting the largest population of deceased confederate generals. And maybe that's what it is about cemeteries that draws me in – maybe it's the history that's inherent, the lived and died dates etched on the tombstones, that allows my imagination to fill in the blanks between the numbers.
Next to Jim Morrison's grave, which was blocked off when we visited, is a giant tree covered in graffiti and gum, lipstick kisses and cigarette butts.
When I turned 27 I remember thinking how iconic the age was. There's the 27 Club, that list of musical geniuses who died at 27 including Kurt Cobain, Janis Jopin and Jimi Hendrix and it always seemed like the age to beat. There was an odd sort of comfort in standing at the tomb of Jim Morrison, himself a member of the 27 Club, on my 28th birthday and realizing that hey, I just might make it after all.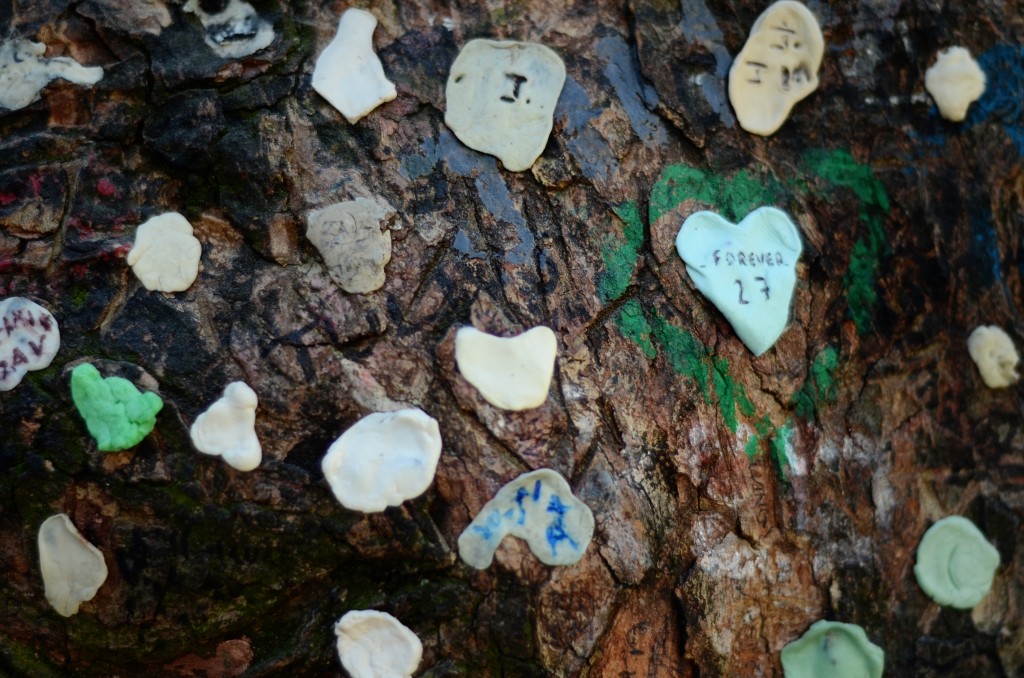 Oscar Wilde's tomb had recently been surrounded with a plexiglass wall to keep fans from defacing it, put really that just encouraged fans to live lipstick kisses all over the glass making it virtually impossible to actually see the tomb beyond the glass.
SECOND STOP: La Basilique du Sacré Coeur

After the cemetery, we jumped back on the metro and made our way here, to a place more beautiful than any picture could ever begin to capture. We walked up and up and up to get to it, passing street performers, vendors, artists, children and fellow tourists. It was a beautiful and surreal moment when we reached the Basilica and looked down and out across Paris and it was an early moment of YES, REALLY, HERE WE ARE.
The thing about this place, and the area it's in, Montmartre, is that it's full of little places to duck into, little tourist shops and snack shops and  shops in general and, given my deep and abiding love of all things street food, we followed our noses around the corner and found this:
Yes, that is a giant skillet full of sausages and onions and it smelled like angel songs and unicorn farts, and given the approaching noontime hour, we lunched.
We sat on the curb, right behind the Basilica, munching on our sausage and baguette creations, throwing bits of bread at pigeons, trying not to get mustard on our clothes and watching French Soldiers rotate in and out for smoke breaks. It was a perfect lunch and one of my favorite moments from the trip because it was just so simple and so surreal and so delicious. There we were, sitting on the side of the road next to one of Paris' top tourist attractions bird and people watching, snacking on delicious French food. It's the little moments that make a trip for me, the moments of quiet or calm when you can just breath for a minute and recognize how lucky you are to be in an amazing and beautiful place.
THIRD STOP: Arc de Triomphe
I don't think anything could have prepared me for how big this damn thing is, but there we were, across the street from it, and I couldn't stop jumping up and down and squealing at it because HOLY SHIT IS THAT THING HUGE.
Add it's size to the fact that it's one of the most iconic sights in Paris and there I was, skipping all over the place like a crazy person because each sight we visited that day seemed to further instill in my mind that yes, really, I'm in Paris and it's AMAZING. Any sense of uncertainty that started the day with was long gone by this point and I was quickly falling in love with the City of Light.
I'm not sure where we were when I decided tree posing would be the best option for me. I tried jumping in front of landmarks in London and it didn't work out so well and by the time we got to Paris, I was ready for something different. Tree posing won.
—
After the Arc, we were hungry and I'd promised Andrew that, if we pushed through and got to the general vicinity of the Eiffel Tower, we could stop for a snack. I had stipulations, of course – I wanted cheese and wine and a spot in the sun, which was exactly and precisely what we found.
FOURTH STOP: Eiffel Tower
Earlier this year I read Devil in the White City and it mentions the Eiffel Tower, how it was never meant to be a permanent structure, and yet there it is, still standing watch over the city.
I screamed when I saw it for the first time. And then did that little skip-hop thing I do when I'm really, really excited. We'd saved the Tower for our last stop of the day, figuring it made the most sense to save the best for last and there we were, finally.
And then we went up.
It's takes two elevators to get to the top of the Eiffel Tower and when you get up there, it's really, really far up there and it's a little crazy and a little scary and a lot beautiful and amazing because right down there is Paris, all spread out and lovely looking.
And then, we walked down. Down I-don't-know-how-many stairs, stopping here and there to take pictures or to put our hands on the Eiffel Tower and marvel at the world around us.
—
We ate birthday dinner at a place called Le Relais de Venise where they bring you unlimited slivers of steak and fries and waitresses stand in the back of the restaurant hacking giant baguettes into perfect slices. It was packed with people and waitresses running in all directions carrying platters of steak and fries and baskets of baguettes.
—
At some point during the day I reached into my pocket and pulled out a penny from 1984, my birth year, and it all felt like fate, like we were supposed to be there on my 28th birthday, like standing on the top of the Eiffel Tower and tree-posing in front of the Arc de Triomphe and eating unlimited French steak and fries was exactly right.